Temple Bar Gallery + Studios
30 June – 02 September 2017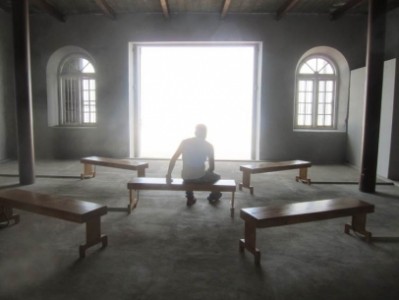 Prime, the first solo exhibition in Ireland of the artist Camille Norment. Her work is often site-specific, sculptural with a sonic installation. What is deeply arresting with Norment's work is her preoccupation with how sound affects the body and how it has the ability to allow one to loose oneself through the act of listening. Sound and listening are unseen, intangible and yet the vibrations can be felt as a bodily sensation, the experiential nature of the work is of prime importance. There is a universality to tone, pitch and repetition which is quite primal. Her research crosses disciplines, exploring the interconnections between sound, myth, taboo and science within the framework of art and history. At TBG+S, Norment addresses the windows in the space as a means to play with the audience – being on display, whilst being an active listener and spectator. The ambient noise from the street collides with the voices in the installation adding to the potency of the piece.
Visitors will enter the gallery filled with the sound of deep, resonant voices that form a pre-lingual polyphonic composition contemplating experience in the contemporary state of the world.  The texture of the voices is akin to a humming, a meditation, a moan, or a chant. Sitting on one of a series of benches, the voices' vibrations are felt directly through the body – it is as though they are physically communicating with you, drawing you into their sonic and psychic sphere, evoking something primal, visceral, bodily and universal.
This kind of vocalization has been replicated in various cultures around the world from the practice of 'moaning' from African American church, to Tibetan monk throat singing, to OM mantra mediation, and beyond. In Ireland and Scotland it would relate to the practice of keening which was vocal lament for the dead. The sound could at once gesture to catharsis, a painful groan, a comforting meditation, or a kind of exalting orgasm. While drawing the body into the physical experience of the sound, Prime creates a constellation of cultural references that speak to a connectedness of sound, voice and the body's experience.
Camille Norment is an American artist who lives and works in Oslo, Norway. She has exhibited and performed extensively in cultural events and institutions, including MoMA (Museum of Modern Art), New York (2013); The Kitchen, New York (2013); Transformer Station (The Cleveland Museum of Art), Cleveland, OH, USA (2013) and The Museum of Contemporary Art (The National Museum of Art, Architecture and Design), Oslo (2012). In 2015, she represented Norway at the Venice Biennale.