Temple Bar Gallery + Studios
February, 11 – April 1, 2017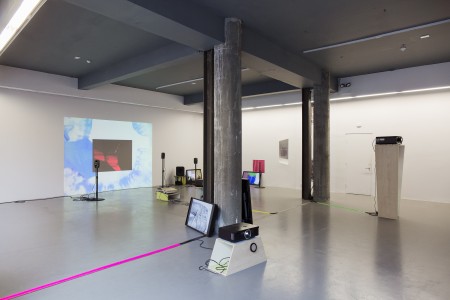 Hilary Lloyd's exhibition Woodall is presented as a collaboration between Temple Bar Gallery + Studio's and PLASTIK Festival of Artists' Moving Image.
Hilary Lloyd's work centres on film and video, while also engaging with sculpture, painting, collage and installation. Her films resist the conventional notion of 'duration', instead presenting filmic images to be encountered. They often relate to the urban environment, their subject matter veering between the recognisable – a crowded bar, a building, a motorway bridge – and more fleeting or subliminal images, which play with the processes of seeing and interpreting.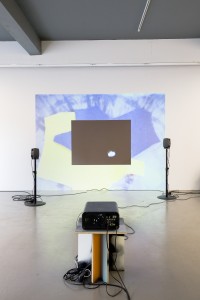 For Temple Bar Gallery + Studios, Lloyd has constructed a multi-part installation in which film and sculptural elements are interwoven. Central to this installation is a group of new film works in which Lloyd continues to probe the architecture and ambiences of particular places. She integrates sounds and images in ways that challenge typical viewing conventions – sliding from interpretable scenes into 'abstract' formulations of colour, shape and light. Through a strategy of juxtaposition, Lloyd shifts between detachment and intimacy, abstraction and reality – offsetting psychedelic backdrops with casual observations of urban life. The films are integrated into a sculptural installation which includes printed fabric hangings, echoing and reframing the videos' contents. Throughout the installation, the repetition of shapes and motifs provides a rhythmic quality to the work, connecting real-life visions with constructs of digital technology. Lloyd's film works have a salient beauty and visual restraint, continually informed by an awareness of the mechanisms through which they are displayed.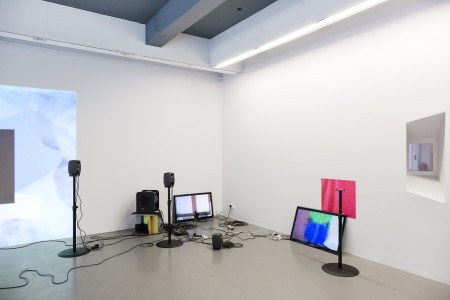 As in previous works, Lloyd responds directly to the architecture of the gallery, energizing and subtly transforming the location. The arrangement of different elements in the installation ¬– projections, posters, fabrics, furniture – invests it with a sculptural quality, while also foregrounding the physical position and movement of the viewer in the space. In this regard, her work harbours a subtle performative element. Lloyd draws the audience through the architecture of the gallery and through the camera's frame of vision, distilling and repeating her highly-attuned view of the world.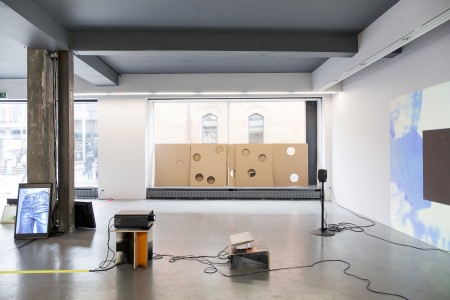 Hilary Lloyd lives and works in London. She has exhibited internationally, with solo exhibitions including Blaffer Art Museum, Houston (2016); Robot, Sadie Coles HQ, London (2015); Balfour, Sadie Coles HQ, London (2015); Museum für Gegenwartskunst, Basel (2012, accompanied by a catalogue); Artists Space, New York (2011); Raven Row, London (2010); Tramway, Glasgow (2009); Le Consortium, Dijon (2009); Kunstverein München, Munich (2006); Waiters, Henry Moore Foundation Contemporary Projects, Venice Biennale (2003); Kino der Dekonstruktion, Frankfurter Kunstverein, Frankfurt (2000); and Chisenhale Gallery, London (1999).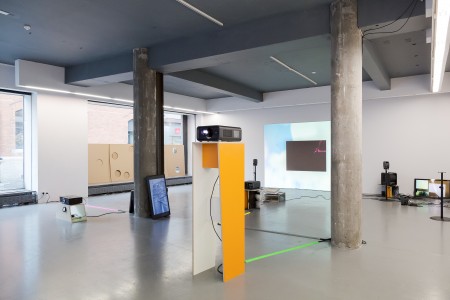 Lloyd was nominated for the 2011 Turner Prize for her exhibition of 2010 at Raven Row, London. In 2016 she received The Bryan Robertson Trust Award. Forthcoming solo exhibitions include Dorich House Museum, Kingston University, UK; Focal Point, Southend- on-Sea, UK; Greene Naftali, NY, USA and 356 S. Mission Road, L.A., USA. Hilary Lloyd is represented by Galerie Neu, Berlin; Greene Naftali, New York; Sadie Coles HQ, London.