Irish Museum of Modern Art
Live Performance, June 21, 2012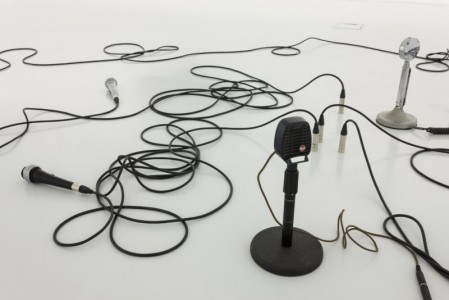 NEW FAITH LOVE SONG by Garrett Phelan comprises an ambitious off-site live performance sound work which will culminate into an exhibition of sound, photography, drawing, sculpture and animation in the New Galleries at IMMA.
The live performance sound work involved the bell-ringers of both Christ Church Cathedral and St Patrick's Cathedral in Dublin city centre.
For the sound piece, Phelan will work with the bells of the cathedrals to create a live conversation between these two iconic religious monuments.  The bell-ringing dialogue will act as a declaration pronouncing the arrival of 'New Faith'.  This proclamation of 'New Faith' is inspired by a loss of faith and the consequential intermediary period of faithlessness, leading to the reconstruction and manifestation of 'New Faith'.  This new work symbolises the realisation of 'New Faith' and culminates in a 'bell-ringing' celebration that evokes the optimism that can stem from the inexplicable.
Born in 1965 in Dublin, Garrett Phelan has developed a distinctive art practice that directly engages the audience with immersive ambitious site-specific drawing projects, FM radio broadcasts, sculptural installations, photography and animation. He has exhibited widely in Ireland and internationally, including the 11th Lyon Biennial, France; 4th Auckland Triennial, New Zealand; SMART Project Space, Amsterdam; ICA, London; The Fruitmarket Gallery, Edinburgh; Kunstverein, Hannover; Art Statements, Basel 39; Manifesta 5; San Sebastian and previously at IMMA