Green On Red Gallery
March 15 – April 12, 2008
Frontier
Niamh McCann, Gavin Murphy & Marcos Rosales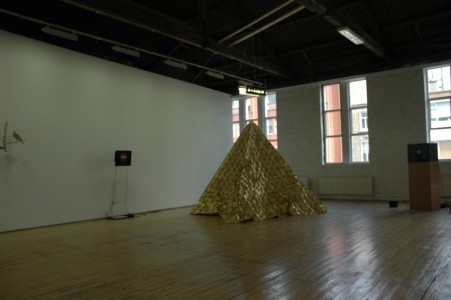 "Our time demands the anti-masterpiece.  Things that are cobbled together, pushed and prodded into a state of suspended animation feel right.  Stubby, brutish forms that know something of the world in which they are made tell the contemporary story."
"Not about Mel Gibson" Richard Flood in Unmonumental:The Object in the 21st Century
Green On Red Gallery is proud to announce the first in a series of group exhibitions in 2008 that examine aspects of contemporary art practice in Ireland and further afield.  Niamh McCann ( Irl.), Gavin Murphy ( Irl. ) and Marcos Rosales ( USA ) make up the first exhibition called Frontier.  All three young artists show work using a mixture of drawing, text and sculptural installation in a variety of materials ranging from synthetic fabric to recycled tin, fluorescent light and cast resin.  All three exhibit work in the Green On Red Gallery for the first time.
What is striking in the practice of these three artists is the cross-referential nature of all their work.  Individual works do not point to a single subject or concept but seem to draw from multiple sources and times to arrive at what is more a point of departure rather than an endpoint or conclusion.  This is as true of Niamh McCann's sculptural work as it is of her mixed media on paper.  In Splice ( 1 ), the promotional image for the exhibition, the original, low-grade, found newspaper has been re-cycled and reconstituted.  Parts of the original 'text' – including imagery – survive the alteration but become part of a more ambiguous, complex repository of ideas and narratives.  The use of acrylic paint is transparently thin allowing the various layers or systems/signs to infiltrate/negotiate each other.  As the title suggests, different messages, different time periods, different forms of communication are spliced together/interwoven creating space for reflection.  One dominant narrative/system doesn't exist.  The context is the key to the text.
A similar inter-textuality exists in the work of Gavin Murphy.  Murphy uses bodies of ( past ) knowledge to direct the mind to consider monumental subjects.  Mortality, the nature of existence, the incomprehensibility of the passing of time are at the centre of his art.  Typical of his work are sculptural assemblages or 'Light/Heavy Monuments' like the one made from recycled coffee bags in Frontier.  Word signs and a light bulb hover like a makeshift lightbox above the silver and gold pyramid.  The artist does not distinguish between the suggestive power of the forms/signs he generates and the use of single, floating words to operate as a platform for further philosophical investigation.
These occupations, come from a very personal fear, yet Murphy translates these fears into the universal, turning to an enlightenment understanding of the objective observer as a metaphor for the isolation of the soul who wishes to step out of time.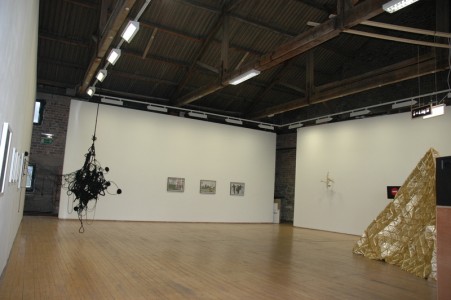 The work of Marcos Rosales ( born Waco, Texas ) comes from a very personal origin tied in with his adoption as a child.  Identity as a quest is something, however, that all of us negotiate whether it's on a philosophical or emotional level or just going through passport control.  His stream-of-consciousness writings, entitled The Demons of Diversity, link in with his almost almost automatic ink drawings connect to his free-form, kinky, black macramé suspended sculptures.  Cryptic message and double-entendre abound in an unsettling and intense prod at the viewer.