Irish Museum of Modern Art
12 October, 2013 – 19 January, 2014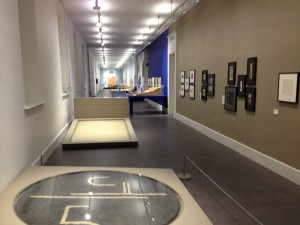 IMMA is delighted to present this major retrospective of the work of Eileen Gray, one of the most celebrated and influential designers and architects of the 20th-century. Designed and produced by the Centre Pompidou, Paris, in collaboration with IMMA, this exhibition is a tribute to Gray's career as a leading member of the modern design movement. The exhibition at IMMA celebrates Gray's Irish roots and presents a number of previously unseen works that offer new insights into Gray's extraordinary career.
Gray's work has often been split into two parts by critics, with decorative arts on the one hand and architectural modernism on the other. This exhibition approaches Gray's work as a whole, engaging, as she did, in drawing, painting, lacquering, interior decorating, architecture and photography. Renowned in France during the early decades of the 20th-century as a designer in lacquer furniture and interiors, Gray began to experiment with architecture in the late 1920s. The exhibition includes lacquer work, several of her carpet designs, samples from her Paris shop Jean Désert and key items of furniture from her work on the apartment of Madame Mathieu Levy and Gray's own home, Tempe à Pailla.
Significant focus is given to her landmark piece of modernist architecture the French villa E-1027, built in Roquebrune-Cap-Martin in 1926-1929, in close collaboration with Romanian architect Jean Badovici. The exhibition includes examples of furniture for E-1027, including the tubular steel designs with which Gray's name has become synonymous.
Eileen Gray (1878-1976) was born near Enniscorthy, Co Wexford and spent most of her childhood between Ireland and London. In 1902 Gray moved to Paris. She died in France at the age of 98. This extensive exhibition presents a unique opportunity for Irish audiences to experience a large group of work by one of Ireland's most important cultural figures.
The exhibition has been designed and produced by the Centre Pompidou, Paris, in collaboration with IMMA. The exhibition is curated by Cloé Pitiot, Curator, Centre Pompidou, Paris.